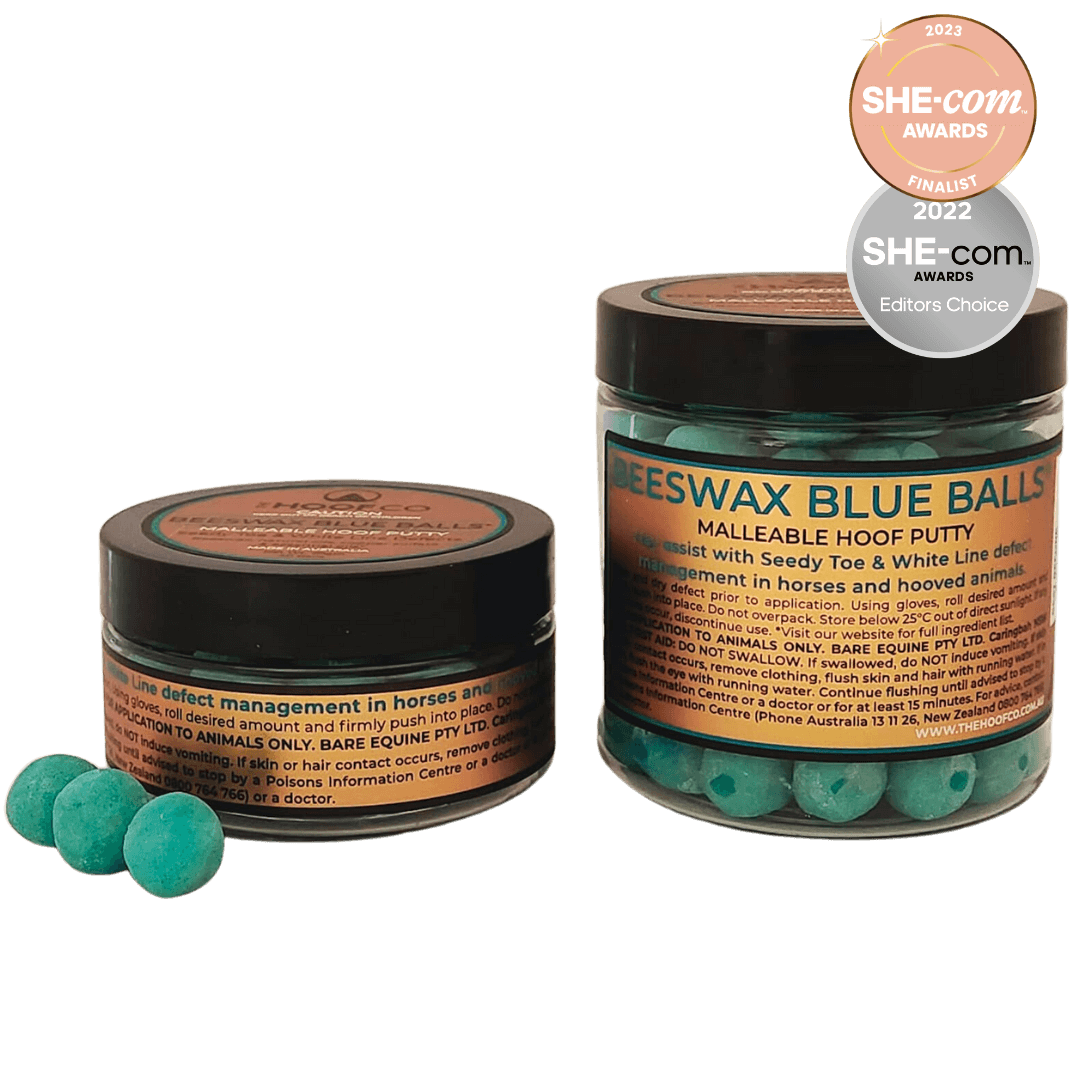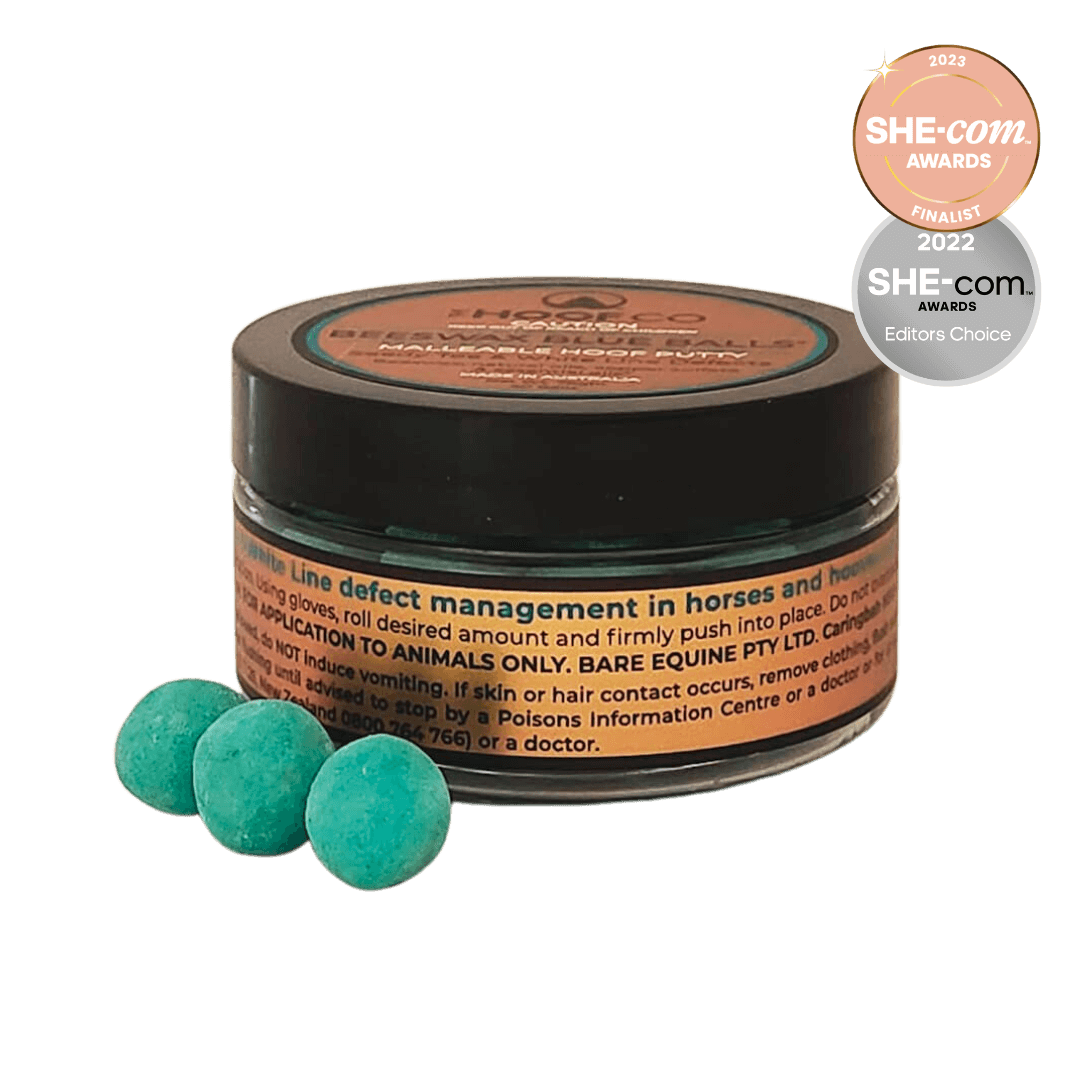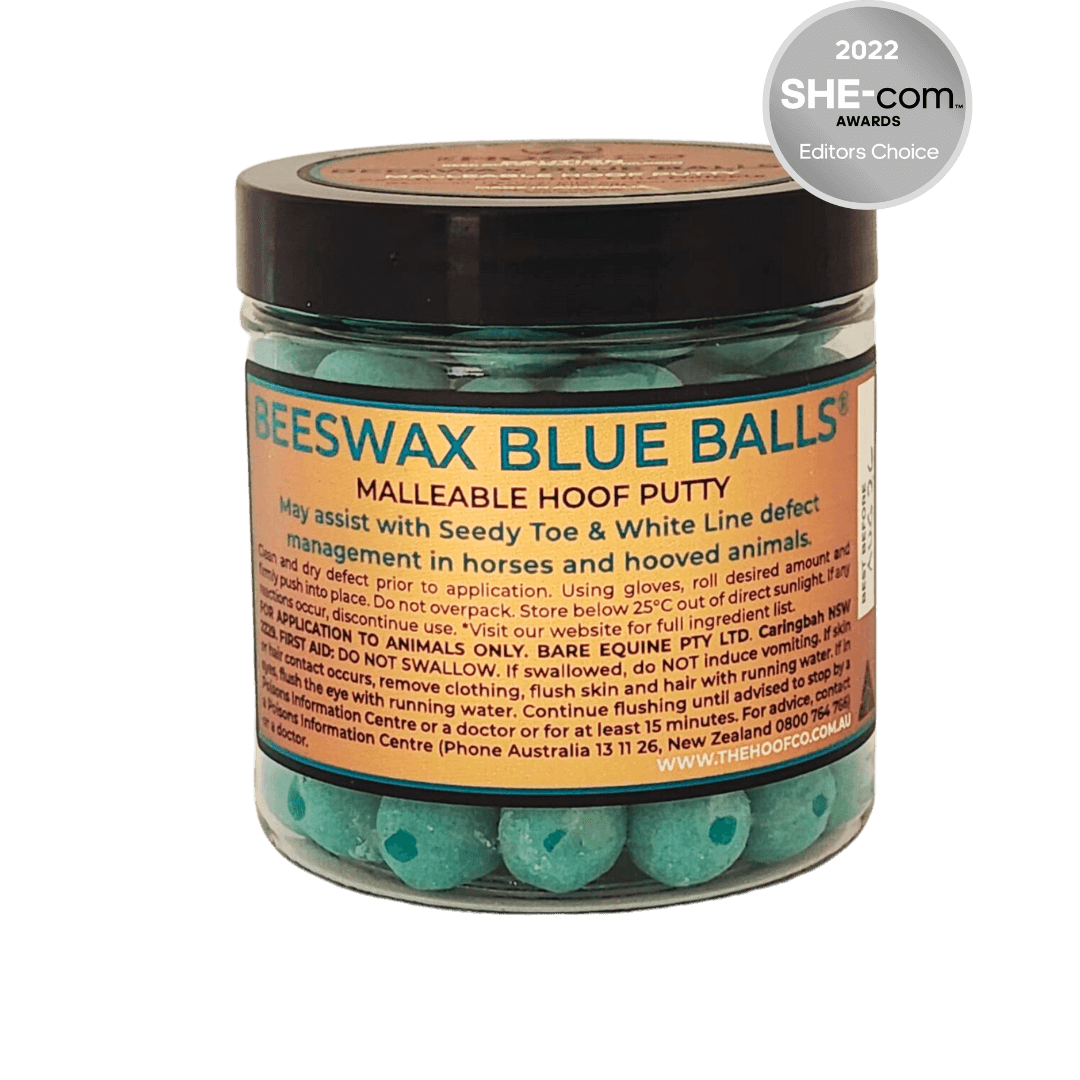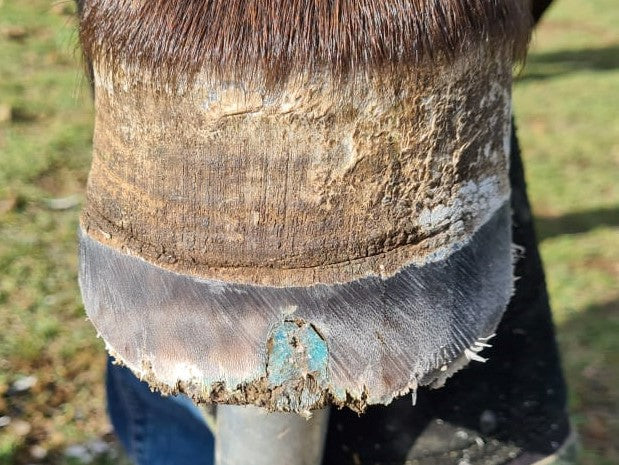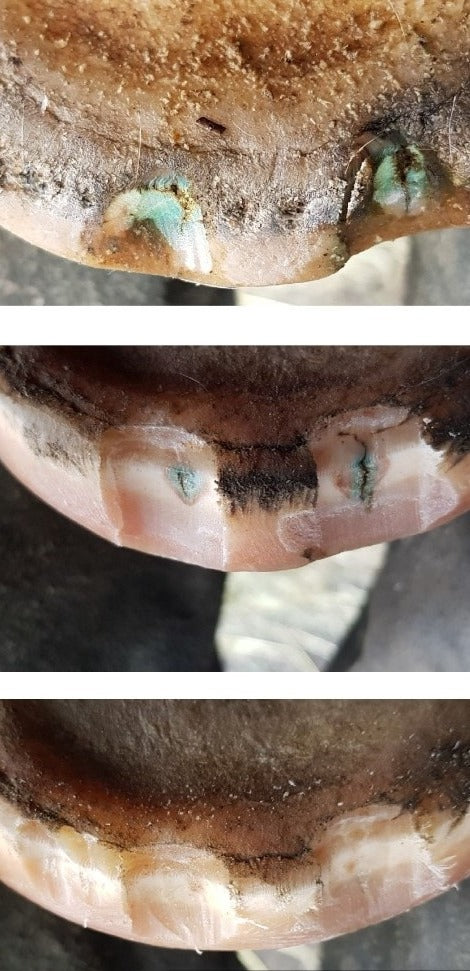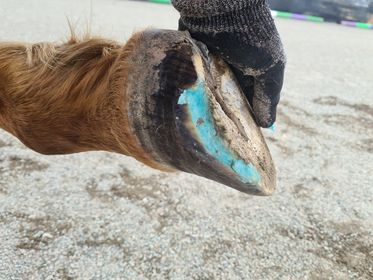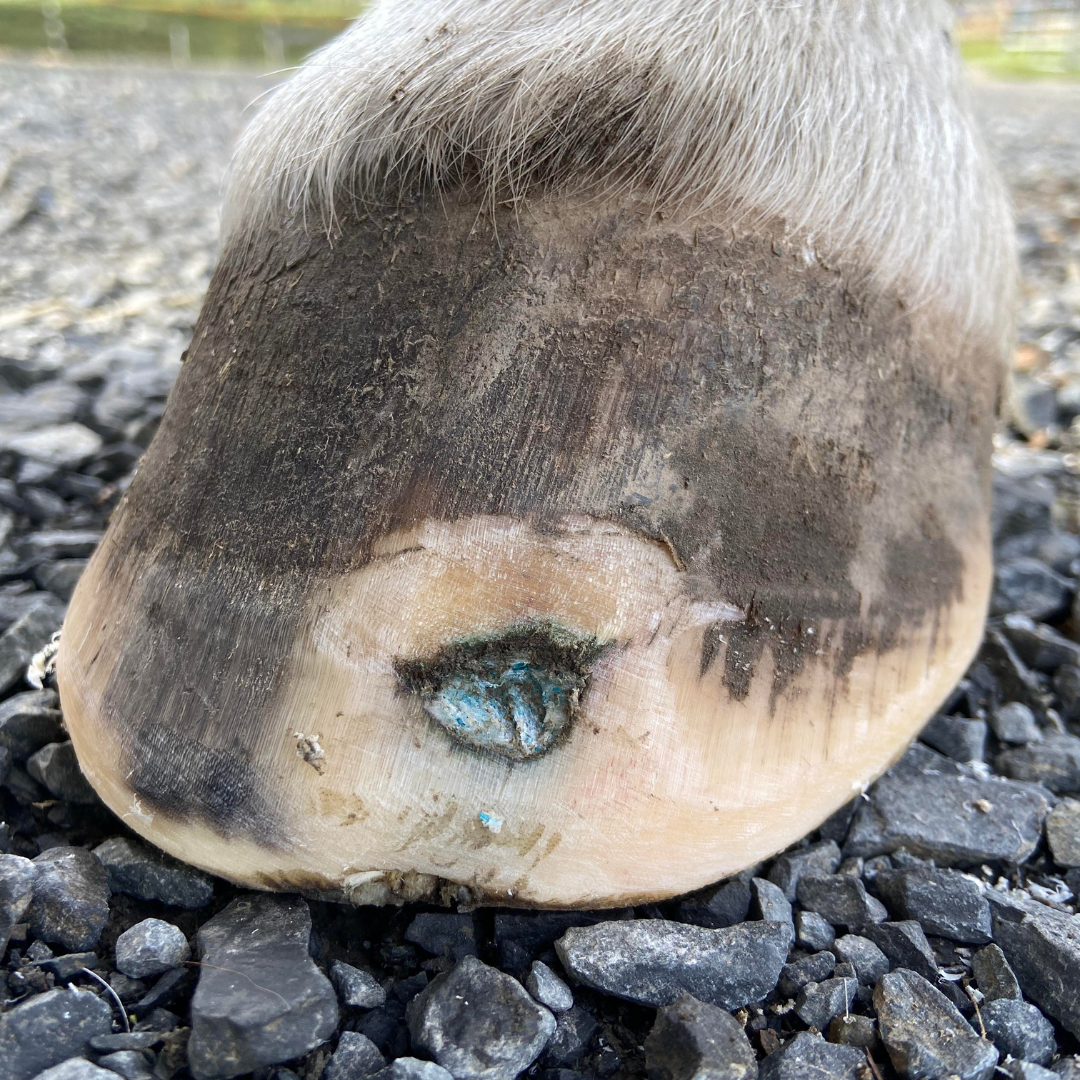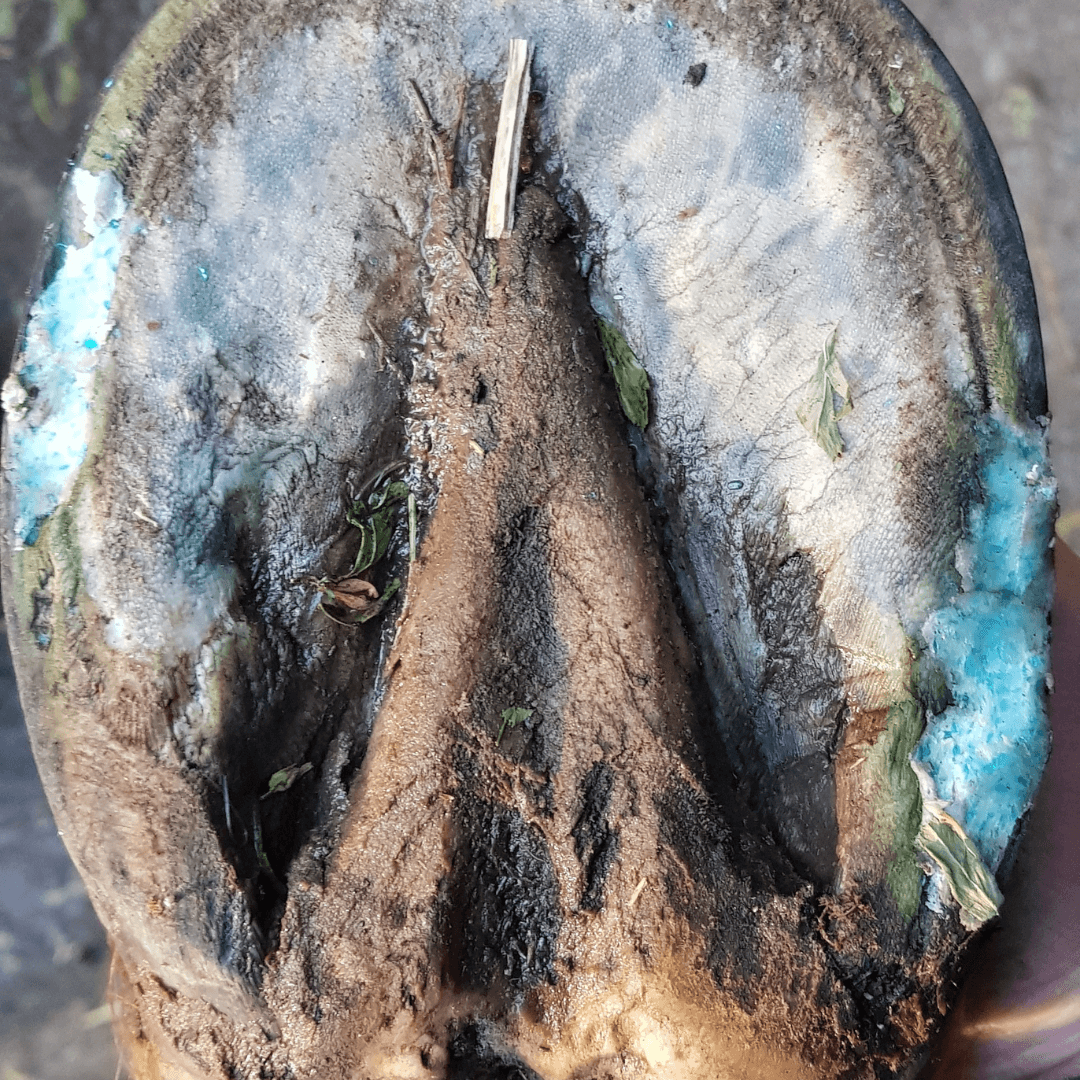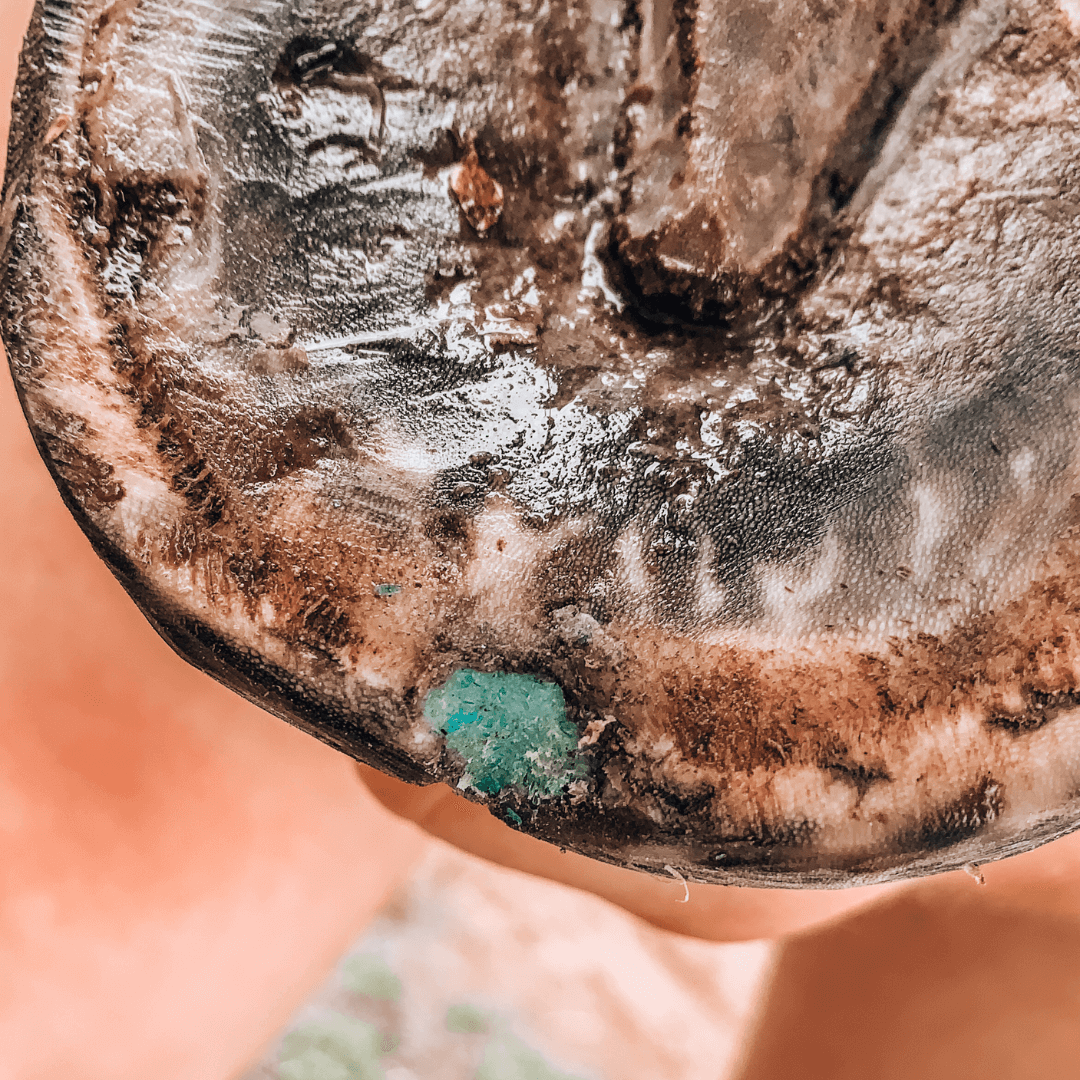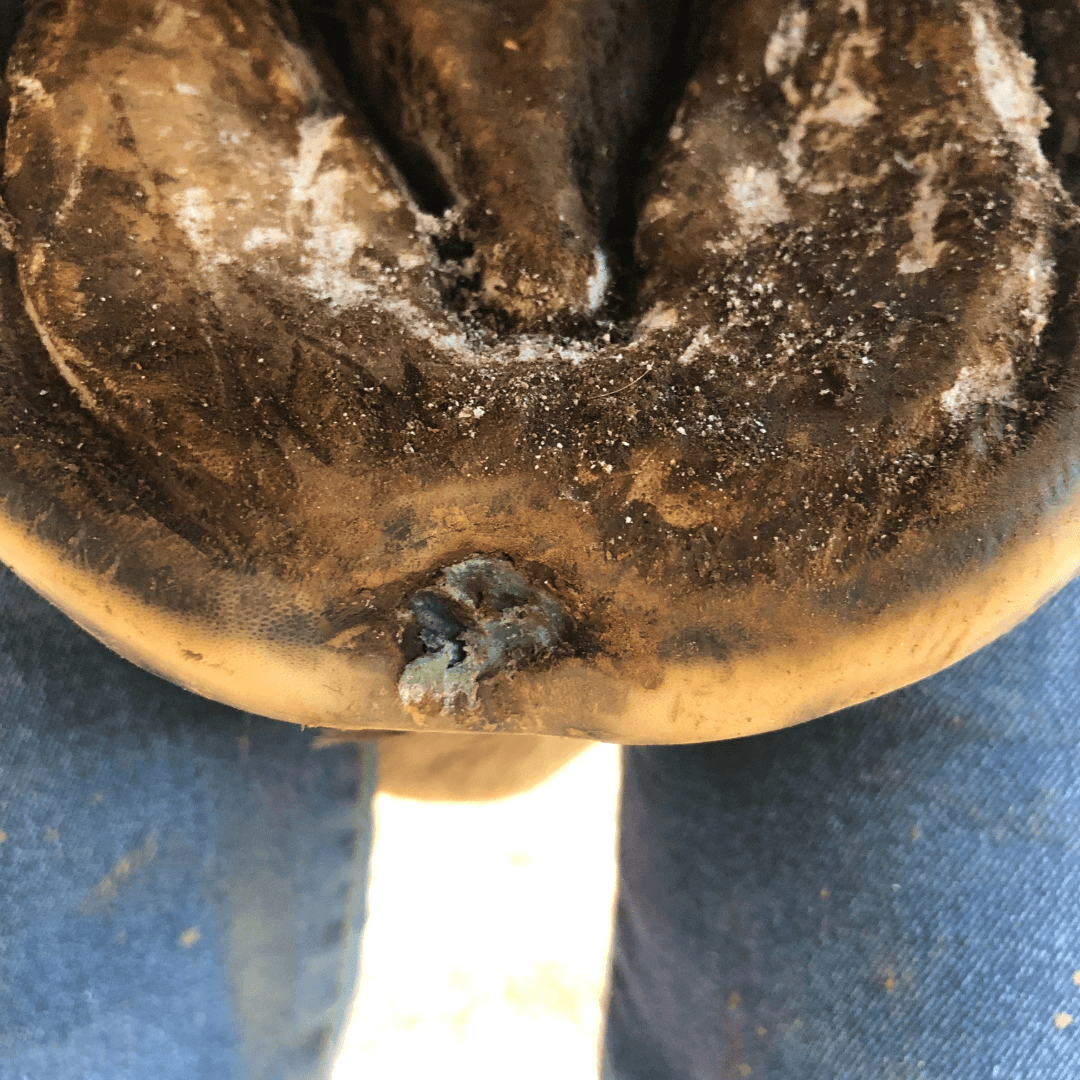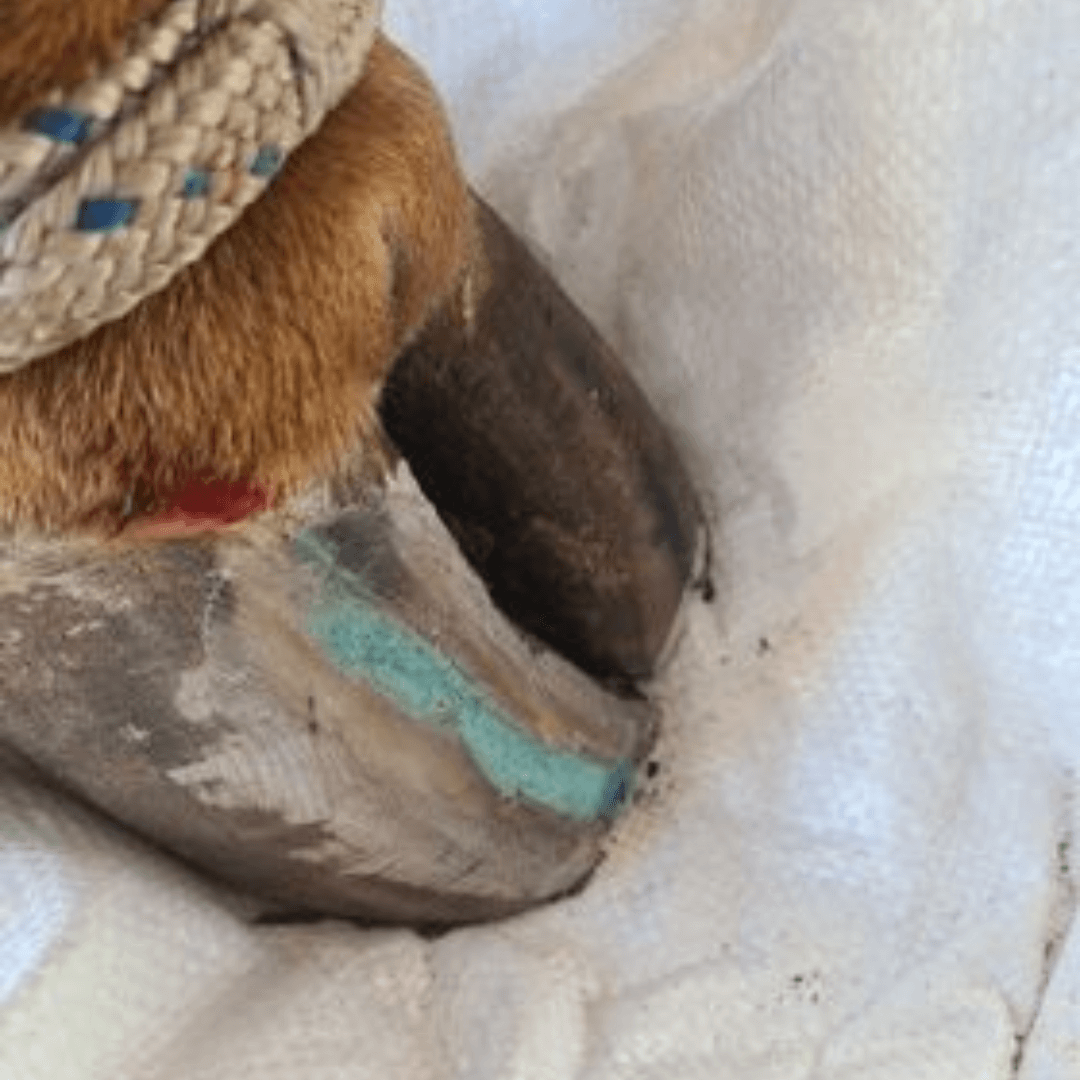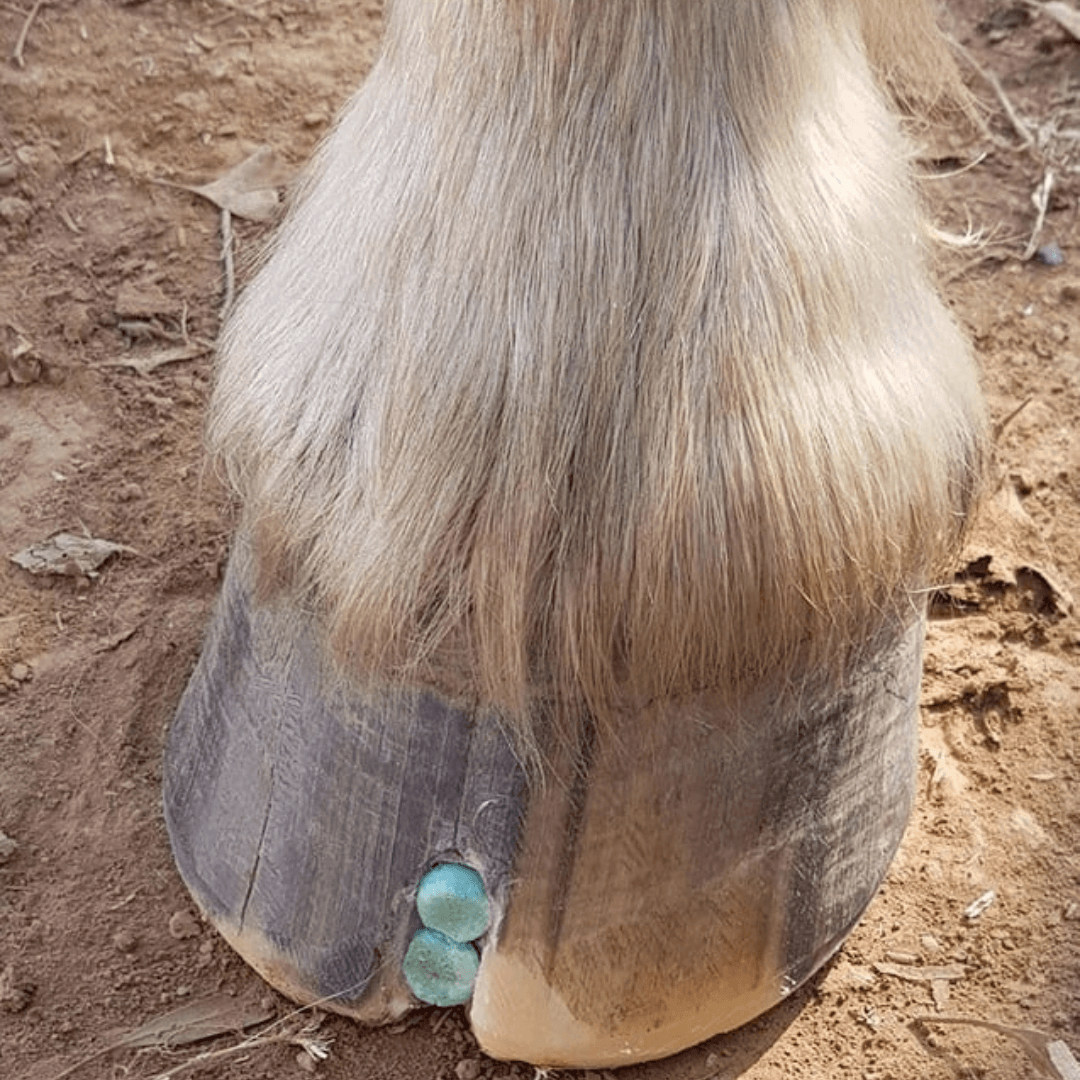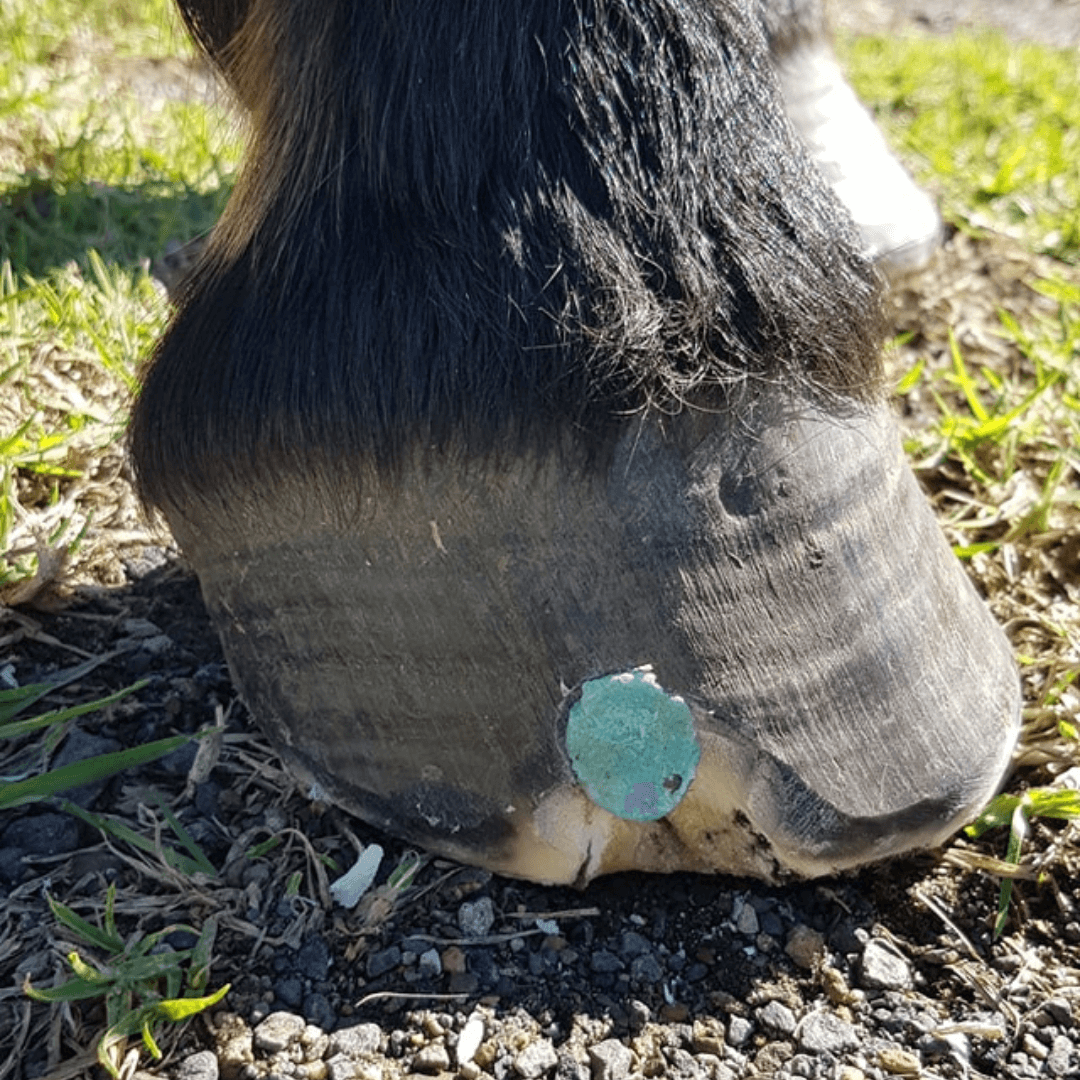 Beeswax BLUE Balls®️ for Seedy Toe & White line defects
Regular price
$34.95
/
Tax included.
Shipping
calculated at checkout.
FREE SHIPPING on all Orders Over $120
In stock, ready to ship

Inventory on the way
SEEDY TOE & WHITE LINE Defects - MALLEABLE HOOF PUTTY
BEESWAX BLUE BALLS® - The Solution for Seedy Toe & White Line Management
40 or 100 ball jars - for the regular or experienced ball handler.
Got Balls? You bet we do!
Managing Seedy Toe?  Simply wedge one of these blue beauties up your crack or area of separation in the hoof.  This will keep the area free from debris and further pathogens entering the site.  
Beeswax Blue Balls®️ are a malleable hoof putty.  A handy portion size that will change the hoof care game for you and your noble steeds.  When it comes to managing Seedy Toe, White line defects and Separation in hooves our Balls are second to none.   
"I love these wax balls! They are so easy to use, and one application will last 2 to 3 days before cleaning the area and reapplying. So quick, easy and fuss free. Unique mix of ingredients and their properties keep the area clean from contamination. Love it."
An innovation by a Hoof Care Professional who understands the frustrations of hoof conditions, these balls are the ultimate hoof care hack.  Based on natural, cosmetic grade ingredients, copper sulfate and infused with high-quality essential oils.  They stay put like a boss, repelling debris and pathogens from getting wedged "up your crack".
Super easy to use, the balls can be used whole (if you've got a big one) or broken apart for a smaller amount.  
"Product does exactly as they say it does.  Highly recommend."
Clean that hoof like it's hitting the red carpet, ensure you've soaked up any wet patches - then grab a Blue Ball and push it into place like a boss.  Do not overpack, ensure the ball is at the top of the affected area so the ground leverage as your horse moves off does not remove the ball.
Proudly Australian Made from Australian ingredients and packaging.
SHELF LIFE - 3 years.   Longer than some Hollywood marriages.
Roll on over to the cart and grab a firm hold on a set.
FOR APPLICATION TO ANIMALS ONLY.  Remember - these balls are strictly for the four-legged superstars. If accidental contact or ingestion occurs, follow the first aid instructions.  Keep those balls away from curious kids, they're strictly a physical barrier product for topical application to animals. 
FIRST AID: NO NOT SWALLOW. If swallowed, do NOT induce vomiting. If skin or hair contact occurs, remove clothing, flush skin and hair with running water. If in eyes, flush
the eye with running water. Continue flushing until advised to stop by a Poisons Information Centre or a doctor or for at least 15 minutes. For advice, contact a Poisons Information Centre (Phone Australia 13 11 26, New Zealand 0800 764 766) or a doctor.
Please note:  This is a cosmetic product for application to animals only and has no therapeutic effect.
Ingredients list: Cera Alba, 

Ricinus communis L,

Caprylic/

Capric

 Triglyceride, Anhydrous Lanolin, Copper Sulfate, Citrus Grandis, 

Tocopherols (d-alpha-, d-beta-, d-gamma-, d-delta-tocopherol), Soybean Oil, Eugenia Caryophyllus, Origanum Vulgare.
Appearance may vary batch to batch due to the nature of the ingredients.
POSTAGE AND DELIVERY
We post products to within Australia only. We use delivery service providers to help us get our products to you. 
a)

Rates
You agree to pay to us postage fees as CALCULATED at CHECKOUT.
As you know, technology is great but it's not infallible. If there's an error in the calculation of your postage costs, we'll contact you before processing your order to discuss options (such as paying any additional costs or modifying your order).
Our delivery service providers may change their fees from time to time, and so you acknowledge and agree that we can vary the postage fees applicable to orders at any time on notice, and that such notice is given by posting the updated postage fees on the Website. 
b)

Dispatch Timeframes
We process all orders within 48 HOURS of receipt of payment. Once an order is received, you will receive an order confirmation and a shipping confirmation when the item is leaving our warehouse.
We ask for your patience as this handling period may vary, for example, if we have a high volume of orders. 
You acknowledge that we're not liable for any delay in dispatch of your order.
c)

Delivery Timeframes
Delivery times will vary between orders – we'll do our best to let you know when to expect your delivery, however this is largely dependent on the delivery service provider. As a guide, your orders should arrive within a 2 week period, unless advised otherwise. 
d)

Delivery Address
It's your responsibility to make sure that your postal address details are correct- we won't be responsible for any incorrect or failed delivery if you don't supply current, accurate postal address details. If your order is undelivered due to your error and returned to us, we reserve the right to require you to pay further postage fees or terminate this agreement and issue a refund in accordance with this agreement. 
e)

Orders Lost in Transit
When we dispatch your order, we will give you a tracking code for you to track the progress of your order.
If you're concerned that your order has been lost or misdelivered, we ask that you contact us as soon as possible, so that we can investigate. You understand that while we'll investigate your missing order, we make no representations as to responsibility or liability for any lost or misdelivered order. In the event of items lost or damaged in transit, you acknowledge that our liability is limited to the amount of any compensation we are able to recover from the delivery service provider, less our reasonable costs of investigating and applying for any compensation, unless otherwise required by law. 
f)

Risk
Risk in each order passes to you on delivery to your nominated address. You must sign for your delivery, unless you've given authority to leave unattended. If you've authorised us or our agents to leave your order unattended at that address, the order will be taken to have been delivered on leaving the order at the address. If you ask us to deliver to an address and you're not there, but someone else at the address signs for the parcel, the order will be taken to have been delivered on leaving the order with that person. 
If we accept a return of any goods, risk in those goods will revert to us on our confirmation of receipt of the returned goods. We recommend you insure goods you return to us against loss or damage in transit.
EVENTS BEYOND CONTROL
As in life, sometimes circumstances beyond our control (strikes, floods, fires and extreme weather events, computer malfunctions, failure of service providers to perform services or injury or illness of key personnel) get in the way. If circumstances we can't control affect our ability to dispatch your order, you release us from any obligation to dispatch your order while those circumstances continue.  While they continue, we may choose to cancel your order, or otherwise to complete your order once things have returned to normal. If we expect a major delay, we'll contact you to discuss a suitable solution.
Our Products have been developed over numerous years of Professional use in the field.
We have combined our formulating knowledge of topical applications for Equine Hooves with the best part of 2 decades work in the field to bring you effective hoof care solutions which stay put and get to work on hoof problems so you don't have to.
Simple, effective, hoof care solutions.
​Below are some F.A.Q's along with a guide to achieving the best results with application of our products.
Q: Are your products Australian Made?
A: YES OF COURSE. 100% Australian made from ingredients all sourced from within Australia. Our packaging is also sourced from within Australia from Australian manufacturers and are recyclable. We are proud to display the coveted Australian Made logo on our products.
​POSTAGE
Q: I need my products ASAP , do you offer Express Post?
A: Yes we do. Please select EXPRESS POST at check out.
Q: What are your postage rates?
A: $9.95 flat rate shipping and FREE shipping over $120. Our trial sizes have postage included but can be upgraded to Express if you prefer.
​Q: When will my order be shipped?.
A: You order will be packed and ready to ship usually within 48 hours of your order confirmation of payment. (Exception is Friday after 10am - orders will leave Monday to the post office). Any variations to these shipment days will be posted on our social media accounts.
​Q: Can I track my parcel?
A: Yes of course!. You will receive a shipping notification email from us when your order is ready to trot off to the post office.
The only products we don't send via tracking are the "trial sizes. These are sent in a Regular Large letter and you will still receive a notification of the day they will be posted.
​WHAT ARE YOUR INGREDIENTS?
Our products are based on natural COSMETIC grade ingredients.
​Some of our products do contain Beeswax and Honey so if you have any allergies to a specific ingredient, please feel free to ask if you are unsure. Most of the information can be found on the product descriptions.
​Whilst we appreciate your interest in our products, we have spent many years with Research and Development with our range and DO NOT SHARE OUR RECIPIES. This is our intellectual property which has required many years to develop, stability test and produce the end product to ensure that we are providing you with the best knowledge and ingredients available for our Hoof Care range.
Our products are unique in formulation as proven by our "innovation" and product awards.
DO YOU HAVE STOCKISTS?
Yes we do. Our current stockists are listed under the STOCKISTS tab on our website.
​We are open to enquiries for stocking our products from both Professional Farriers and Trimmers along with E-commerce and Retail stores.
​DO YOU SHIP OUTSIDE OF AUSTRALIA?
At this stage we do not ship outside of Australia. Please stay tuned and you can always send through your enquiry as to your country of interest for when we are ready to CRACK on with international shipments.
HOW DO I USE YOUR PRODUCTS
Q: How do I apply? How long will they last? When do I know when to reapply? My balls won't stick?
A: Glad you asked – we have a PDF file to download for each product and best practice application.